The Spiky Wheel Thing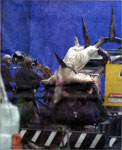 I am absolutely outraged at this!!!!!!!!!!!!!!!!!!!!!!!!!!!!
If you don't already know, that is Saruman on the Wheel.
The scene was described like this: "As Saruman turns on the wheel, the Palantir drops from his hand and in to the water".
Ahhhhhhhhhhhhhhhhhhhhhhhhhhhhhhhhhhhh!!!!!!!!!!!!!!!
For those of you who have not read LOTR, this is not how Saruman dies in the book. Saruman gets his throught slit by Wormtongue (Grima) in the Shire. Wormtongue is then shot. Saruman's death scenes is one of the coolest parts of the book, and they are changing it completely!